Welcome to the Environmental Health Website!!
It is our hope that this website will help offer an easier mechanism by which to assist our clients with our services. You may now access forms and guidance for all of our programs here, as well as answers to frequently asked questions. In addition complaints can now be submitted online straight to our division, and payment links make permit payments a click away! We hope you find our website useful and look forward to serving you.
The Tulare County Division of Environmental Health is a full-service division that is dedicated to protecting the health of people and the environment in Tulare County.
Welcome Back to the Environmental Health Office
June 15, 2021, we will begin seeing people in-person again. We are excited to take this step in the right direction.
While visiting our office face coverings are highly recommended. Virtual services are still available for our high-risk population.
Please call 559-624-7400 if you have questions.
NEW DROPBOX
Do you need to drop off a payment or set of plans and do not want to go into the building? You no longer have to!
The new drop box is located outside on the east side of front entrance, labeled: HHSA/Public Health/Environmental Health.
Plans may be dropped off Monday – Thursday from 7:00 A.M. to 4;30 P.M. and Fridays from 8 A.M. to 11:30 P.M. Excluding weekends and holidays. No CASH please, only checks and money orders. The drop box is locked and secure and is emptied twice a day by staff.
Payments may also be made online at - Tularecountyeh.org
Bienvenido de nuevo a la oficina de Salud Ambiental
El 15 de junio de 2021, comenzaremos a ver personas en persona nuevamente. Estamos emocionados de dar este paso en la dirección correcta.
Durante su visita a nuestra oficina, las mascarillas son muy recomendables. Los servicios virtuales todavía están disponibles para nuestro población de alto riesgo.
Llámenos al 559-624-7400 si tiene preguntas.
NUEVO buzón
¿Necesita dejar un pago o planos y no quiere entrar al edificio? ¡Ya no tienes que hacerlo!
El nuevo buzón está ubicado afuera al lado en la entrada principal, etiquetado: HHSA / Salud Pública / Salud Ambiental.
Los planos se pueden dejar de lunes a jueves a partir de las 7:00 a. M. a las 4; 30 P.M. y viernes a partir de las 8 a.m. hasta las 11:30 p.m. excepto fines de semana y días festivos. No EFECTIVO por favor, solo cheques y giros postales. El buzón está cerrado y seguro, y el personal lo vacía dos veces al día.
Los pagos también se pueden realizar electrónicos por el sitio web - Tularecountyeh.org
READY to Swim!
NEW! Pool Safety Information to Safely Enjoy the Water During Swimming Season
Self-Inspection before using pool and spa for the season:
https://tularecountyeh.org/eh/guidance-library/pool-spa-water-features/swimming-pool-and-spa-self-checklist/
Pool Dangers and Drowning Prevention:
https://www.healthychildren.org/English/safety-prevention/at-play/Pages/Pool-Dangers-Drowning-Prevention-When-Not-Swimming-Time.aspx
https://www.dds.ca.gov/initiatives/drowning-prevention/
Water Safety Magazine:
https://www.watersafetymagazine.com/
CDC Coronavirus considerations for aquatic venues:
https://www.cdc.gov/healthywater/swimming/aquatics-professionals/covid-19-and-aquatic-venues.html
Swimming Lessons! Why they are Important and Locations Near You:
Red Cross: https://www.redcross.org/take-a-class/swimming?utm_source=RCO&utm_medium=For_Individuals_Find_Classes_and_Certification&utm_content=Swimming_Water_Safety
Dinuba: https://www.dinuba.org/sports
Lindsay: https://www.lindsay.ca.us/wellness
Porterville: https://www.ci.porterville.ca.us/departments/parks___leisure/parks___facilities/pool/index.php
Tulare: https://www.tulare.ca.gov/government/departments/community-services/parks-recreation
Visalia: https://www.visalia.city/depts/parks_n_recreation/recreation/aquatics.asp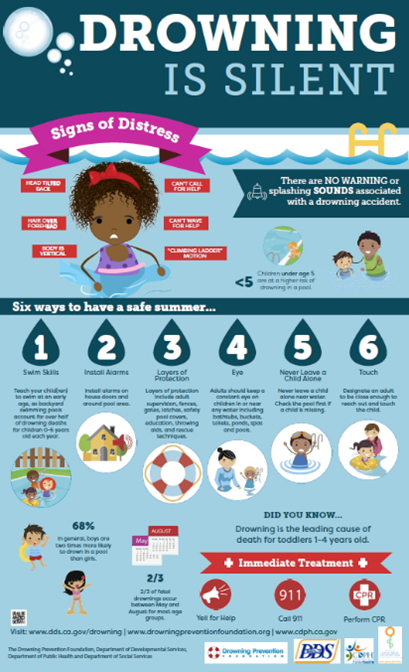 Do you have questions and need to contact your assigned inspector? Please see our staff email and contact information list!

Did You Know it's Free?
Disposal of your household hazardous waste can be done any Saturday at the permanent facility located at 335 N. Cain Street, Visalia, from 8-1pm at no charge! We also have special Saturday Events coming to a city near you! Event locations and times

Do you need a permit?
If you would like to make and sell food to the public, you need a permit! Our inspectors are here to help you! Staffs contact information
All of our forms and guidance are here to assist you through the permitting process.
For your safety, consumers of mobile food facilities should be sure they are permitted. Here's what to look for.
¿Necesita un permiso?
Si desea hacer y vender comida al público, ¡necesita un permiso! ¡Nuestros inspectores están aquí para ayudarle! Información para contactar los inspectores.
Todos nuestros formularios y guías están aquí para ayudarlo a través del proceso de permisos.

Food Excellence Awards 2019
Tulare County restaurants with the highest food inspection ratings were recognized with the Excellence in Food Safety Awards on March 3,2020 at the Tulare County Board of Supervisors meeting. Owners and managers were encouraged to attend and be recognized. Retailers who received an award earned a certificate to display at their facilities.
Environmental Health (TCEH) recognized 447 Retail Food Facilities for 2019. Tulare County Environmental Health Services implemented the Excellence in Food Safety Awards program in March of 2010 to recognize restaurants that have consistent safe food-handling practices and achieve a score of 95 percent or above on three consecutive routine inspections. The award places a spotlight on those restaurants that demonstrate outstanding performance in, and an exceptional commitment to, safe food handling.

After Hour Emergency Calls
The Environmental health 24-hour emergency notification number is 624-7400. After normal business hours (Monday-Thursday 7:30am to 5:30pm, Friday 8am to 12pm) the call will be answered by our answering service, ABC Communications. The answering service will contact the assigned on-call EH emergency response personnel.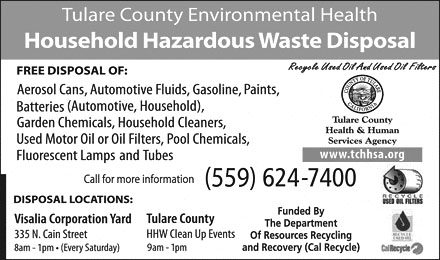 Help keep Tulare County clean by taking Household Hazardous Waste to the Visalia Corp Yard, or to one of our many Clean Up Events! Clean up Events days and times are posted under public information.