Welcome to the Environmental Health Website!!
The Environmental Health Division is excited to present our website! It is our hope that this website will help offer an easier mechanism by which to assist our clients with our services. You may now access forms and guidance for all of our programs here, as well as answers to frequently asked questions. In addition complaints can now be submitted online straight to our division, and payment links make permit payments a click away! We hope you find our website useful and look forward to serving you.
The Tulare County Division of Environmental Health is a full-service division that is dedicated to protecting the health of people and the environment in Tulare County.
May 29, 2020--Earlimart Public Utility District Boil Water Notice

California Governor Gavin Newsom announced directives to address the need to slow the spread of COVID-19. Please see the guidance document issued by CDPH regarding Retail Food, Beverage, and Other Related Service Venues.
RESTAURANT OPERATING PROCEDURES TO RE-OPEN FOR DINE IN SERVICE
The County of Tulare has been granted a variance to proceed further into Stage 2 of the state's Resilience Roadmap. This variance will allow restaurants to resume modified dine-in service in accordance with the COVID-19 industry guidelines.
Restaurants:
Please review the COVID-19 Industry Guidance; Dine-In Restaurants document. A general checklist for dine-in restaurants is also included. The checklist is a summary of the guidance document and is designed to assist you in the preparation and implementation of your plan. The Reopening Business Plan must be completed and submitted to the following email prior to opening COVIDBusinessPlans@tularehhsa.org
Retail:
Retail stores are permitted to open for curbside and is now expanded to include in-store shopping and should follow California Department of Public Health and Centers for Disease Control and Prevention guidelines. Indoor Malls and Swap Meets are not yet permitted to open.
If you have any questions about the operating procedures, please email Environmental Health at COVIDBusinessPlans@tularehhsa.org
COVID-19 Guidance Regarding Retail Food, Beverage, and Other Related Service Venues (3/16/2020)
CORONAVIRUS-RELATED RESOURCES FOR PUBLIC POOL FACILITY REOPENING AND PUBLIC POOL FACILITY USE
At this time, the County of Tulare is in Stage 2 Recovery of the California State Order which prohibits the opening of Public Pool Facilities. The State of California has provided a reopening COVID 19 Roadmap.
The following additional links may prove useful regarding public pool facility reopening:
CDC Coronavirus considerations for aquatic venues:
Considerations for Public Pools, Hot Tubs, and Water Playgrounds During COVID-19
Coronavirus and swimming information:
CDC guide to Visiting Parks and Recreational Facilities
USA Swimming Facility Re-Opening Messaging and Planning
CDC Coronavirus Communication Resources
Reopening Guidance
Dear Business Leaders,
These unprecedented times have been challenging, to say the least. However, we're proud of you for helping our community succeed, from donating meals to essential employees, to sewing masks, to simply sharing resources on social media. We are truly #StrongerTogether. As we move forward, we know you are anxious to reopen your doors. To ensure the safety of our community and to help you navigate the new normal, we have created this playbook. This comprehensive guide includes many of the recommendations and developed guidelines from the CDC and other federal, state, and local agencies. This resource will act as a living document, which we will update as this fluid situation changes. Though we all wish to return to our regular lives, we must take necessary precautions during this time. The last thing we want is for the virus to grow during this stage. This playbook is a guideline to help you safely serve your customers and accommodate your employees. If you have any questions, please contact the Tulare County Public Health Branch. We are here to help you. Thank you for your support and courage as we continue to navigate this pandemic together. We'll continue to persevere the only way we know how: together. Click Below for access to Playbook.
COVID19 Playbook For Reopening

For updates, contacts, and guidance concerning COVID-19 and other preventable illnesses please visit the Tulare County Public Health web-link below.
https://tchhsa.org/eng/index.cfm/public-health/


For additional guidance for Food Facility Measures due to Covid 19 Click Here.
You're invited!
Come and hear about the new proposed permit types, give valuable input, and be part of the process.

Did You Know it's Free?
Disposal of your household hazardous waste can be done any Saturday at the permanent facility located at 335 N. Cain Street, Visalia, from 8-1pm at no charge! We also have special Saturday Events coming to a city near you! Event locations and times

Do you need a permit?
If you would like to make and sell food to the public, you need a permit! Our inspectors are here to help you! Staffs contact information
All of our forms and guidance are here to assist you through the permitting process.
For your safety, consumers of mobile food facilities should be sure they are permitted. Here's what to look for.
¿Necesita un permiso?
Si desea hacer y vender comida al público, ¡necesita un permiso! ¡Nuestros inspectores están aquí para ayudarle! Información para contactar los inspectores.
Todos nuestros formularios y guías están aquí para ayudarlo a través del proceso de permisos.

Food Excellence Awards 2018
Tulare County restaurants with the highest food inspection ratings were recognized with the Excellence in Food Safety Awards on February 5, at the Tulare County Board of Supervisors meeting. Owners and managers were encouraged to attend and be recognized. Retailers who received an award earned a certificate to display at their facilities.
Environmental Health (TCEH) recognized 453 Retail Food Facilities for 2018. Tulare County Environmental Health Services implemented the Excellence in Food Safety Awards program in March of 2010 to recognize restaurants that have consistent safe food-handling practices and achieve a score of 95 percent or above on three consecutive routine inspections. The award places a spotlight on those restaurants that demonstrate outstanding performance in, and an exceptional commitment to, safe food handling.

After Hour Emergency Calls
The Environmental health 24-hour emergency notification number is 624-7400. After normal business hours (Monday-Thursday 7:30am to 5:30pm, Friday 8am to 12pm) the call will be answered by our answering service, ABC Communications. The answering service will contact the assigned on-call EH emergency response personnel.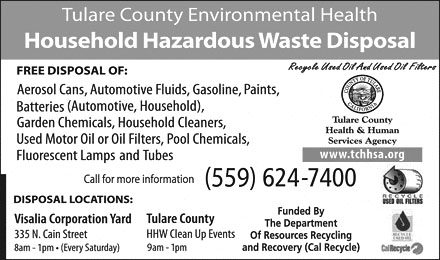 Help keep Tulare County clean by taking Household Hazardous Waste to the Visalia Corp Yard, or to one of our many Clean Up Events! Clean up Events days and times are posted under public information.